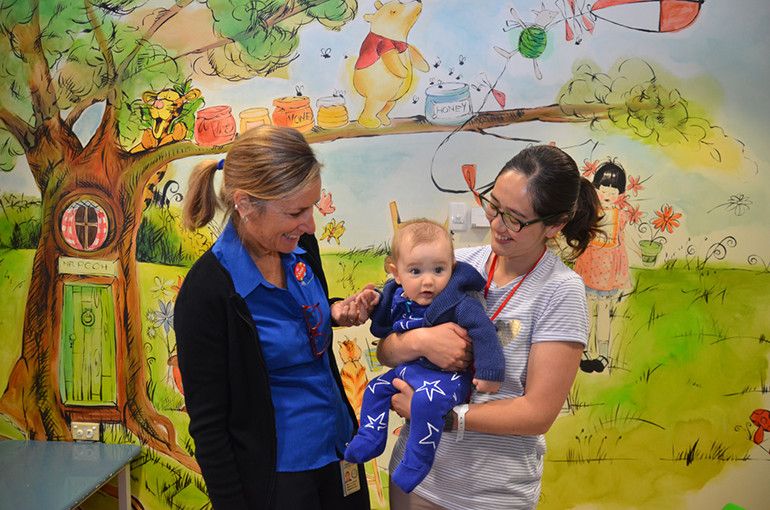 Tresillian's Expansion
After consultation with the many health professionals referring families to Tresillian, it was decided to introduce a centralised intake system, to streamline referrals. Director of Nursing & Clinical Services, Anne Partridge led the implementation of this initiative that meant referrals were processed more efficiently. While this helped curb the long waiting lists at all Centres, the length of residential stays was also reviewed and standardised to 4 nights, 5 days at all Centres to enable more families to be admitted. This strategy was received positively by referrers and parents and remains in place today.
In 2013, after 17 years in the role, and 25 years with Tresillian, Anne Partridge stepped down as Director to focus on her first love, of nursing and working with parents. During her time as Director, Anne has presided over some significant changes at Tresillian including the move of services from Petersham to Canterbury.
David Hannaford, General Manager, retired after 21 years in the role. Following his retirement, Robert Mills was appointed CEO in November, 2013. Robert came to Tresillian with extensive knowledge and background in the child and family area.
In other changes, the Occasional Care service at Wollstonecraft for parents needing short term care, was closed, with many parents favouring long day care. The service had been in operation for over 30 years.
In September 2013, the 'Friends of Tresillian' organised the first of many Tea Parties in the gardens of Tresillian Wollstonecraft. These events have attracted hundreds of mothers and babies over the years and gone on to raise considerable funds for Tresillian.
In May, 2014 Tresillian published another parenting book titled "Hello Baby, Parenting with Confidence" – A Tresillian Guide, written by Professor Cathrine Fowler. The book was launched by NSW Health Minister, Jillian Skinner, at Tresillian's inaugural Team Building Day held at the Waterview Conference Centre, Sydney Olympic Park and attended by all 200 Tresillian staff members. Since then Team Building Days have become an annual event.
To meet the needs of parents in the digital age, Tresillian published its first dedicated Facebook page in October, 2015. Tresillian Early Parenting features tips on parenting and continues to be a valuable resource for thousands of parents. Tresillian's first YouTube Channel was launched on 3rd April, 2017 and includes a series of thirteen new Parent Education videos.
The Tresillian website continued to be re-developed to meet the changing needs of parents and remains to this day, an important educational resource.
In Education, national Conferences for child and family health professionals continue to play an important role at Tresillian and covered relevant topics reflecting research findings in the area of parental mental health and infant mental health.
Expansion into regional Australia
A significant milestone for the organisation during this period has been expansion into regional Australia, with a growing need for more child and family health services.
In the past decade, three Tresillian Day services have been opened. The first in partnership with Albury Wodonga Health (AWH). Located in a modern purpose built facility at 1 Benson Street Wodonga, the service is known as the Albury Wodonga Health & Tresillian Parents & Babies Service and opened in October, 2015. This is the first Tresillian Centre to be located outside New South Wales.
In Lismore on the NSW north coast, another partnership was set up with the North Coast Primary Health Network & Northern NSW Local Health District. The Centre at 46 Uralba Street, Lismore was officially opened in November, 2015 by Mrs Karen Hogan, wife of Kevin Hogan, Federal Member for Page, and the Mayor, Jenny Dowell. A highlight of the opening was the emotional speech delivered by a young mother, Elise Riseham, who told of the incredible care and support she had received from the service on her baby's sleep issues.
Then in May, 2016 the Tresillian in Murrumbidgee Day Service, at 54 Yentoo Drive, Wagga Wagga was launched in partnership with Murrumbidgee Local Health District. Special guests included Mr Daryl MacGuire, MP, NSW State Member for Wagga Wagga, and Hon Bronnie Taylor, MLC, Member of the Legislative Council and Parliamentary Secretary for the Deputy Premier and Southern NSW Member of The Nationals.
These Day services provide a hub for young families wanting advice, guidance and support on a range of child and family health services. For local clinicians, the establishment of Tresillian in these areas also means greater access to professional development opportunities.
Demand remains strong more expansion is planned for regional areas moving forward.
Child & Family Health Education
Over many years, Tresillian staff have been asked to assist NSW Health to develop and implement health professional education. In the 1990s and 2000s, postnatal depression programs were developed in collaboration with the NSW Institute of Psychiatry. Currently, Tresillian's Professional Practice and Innovation Centre is responsible for developing and implementing the 'Advanced Nurse Practice Course' for the Sustaining NSW Families Home Visiting Program.
Tresillian's involvement in child and family health education provision now goes beyond Australia. Educators have been invited to provide Child and Family Health Courses in South Korea, China, Hong Kong and Indonesia.
Using evidence based clinical practice whenever possible is a commitment Tresillian has made. Over the past two decades the amount of research both internally and externally has been significantly expanded. Evaluating our clinical practice and supporting staff research competence is a priority. Tresillian was one of the first early parenting organisations to gain ACHS accreditation.