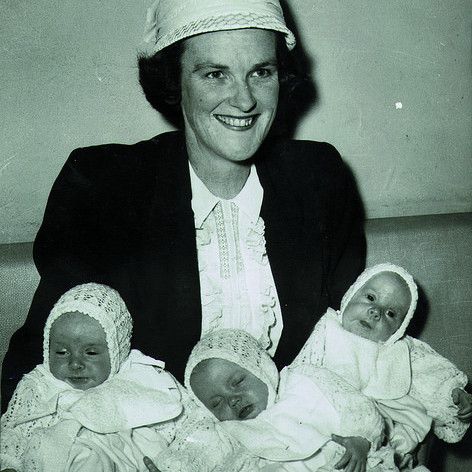 Twins & Triplets were often at Tresillian
The role of the husband in child-rearing was rarely mentioned in official documents on Tresillian up to this time but by the mid 1950's, it was reported.
'The bad old days are gone when it was presumed that because a woman became a mother, she naturally assumed magic gifts for solving all her baby's problems. Many fathers today are willing to make sacrifices like cook their own meals and so on, while their wives stay two weeks or longer at a Tresillian Mothercraft home'! It wasn't until the 1980's that Tresillian became truly 'family friendly' when Pam Davidson (charge nurse), together with Matron Muriel Newman changed the beds at Willoughby from single to double and Fathers were encouraged to stay the night. It wasn't long before this was standardised across all Tresillian residential units.
Tresillian admitting toddlers aged around 12 months – 2 years, usually presenting with behavioural issues. Matron Clifton, in charge of Petersham explained the Tresillian treatment at that time; 'The treatment is carried out by trained staff who realise the importance of self control. Much patience is required over a long period but eventually most children are discharged with the defect rectified'.
Tresillian continued to admit premature babies at each of its Centres. Amongst the admissions were many sets of twins and triplets. Babies would be admitted within 24 hours of birth and discharged weeks later when, according to reports 'were ready to be fed at the breast'. Tresillian also admitted artificially fed babies without their mothers who were failing to thrive. Those babies were recommended for admission by Sisters at the Baby Health Centres and their Doctors from around New South Wales.
Meanwhile at Tresillian Vaucluse, after more than three successful decades of serving the needs of the public increased costs of operation, its isolated location and decreased demand for accommodation obliged the mothercraft home to close its doors in 1969. In 1970, the house was acquired by the Government as part of the Vaucluse House Historic Site under the care of the National Parks and Wildlife Service of New South Wales.
Tresillian was fortunate to attract staff and Council members who were genuinely passionate about furthering child and family health in Australia. One particular staff member who served the organisation for many years in a management capacity was Miss Sheila Robb who was appointed Matron in charge of Vaucluse in 1953 and later Matron in charge of Tresillian Willoughby in 1963. Ms Robb had a wealth of practical mothercraft experience and was well respected as both a manager and clinician.
Dr Margaret Harper
The death of the Society's first Medical Director, Dr Margaret Harper in 1964, was deeply felt by all those who had worked with her. Despite retiring in 1948 she had retained a personal interest in the Society as an Honorary Consultant. A tribute Fund opened for the purpose of establishing a memorial to this outstanding clinician, and in 1980 the 'Margaret Harper Day Stay Clinic' opened at Wollstonecraft.
At a training level, an average of 100 trained nurses each year were undertaking Tresillian's post-graduate course. These nurses returned to obstetric and maternity hospitals in senior positions. An average of 25 girls graduated from the shorter Mothercraft Course on an annual basis.